ORIGINALLY POSTED BY DIESELPOWER FOR THETAZZONE/TAZFORUM HERE
Do not use, republish, in whole or in part, without the consent of the Author. TheTAZZone policy is that Authors retain the rights to the work they submit and/or post…we do not sell, publish, transmit, or have the right to give permission for such…TheTAZZone merely retains the right to use, retain, and publish submitted work within it's Network
As this is a very popular card in new laptops and almost all people with this card are having dificulties with it to crack a wep key heres a tutorial.
1. DRIVER
————–
First you will have to downgrade the drivers of your network car, assuming you have the latest driver. The driver version we are downgrading to is 10.5.1.72 or 10.5.1.75. If someone has a server i can send them..
When you have the drivers go to your wireless connections, select your card > configure > driver > update driver > 'install them from a specific location' > 'dont search..' > have disk' and then select the driver.
2. OMNIPEEK
—————-
Install Omnipeek Personel (
http://products.wildpackets.com/?v=ybwh9mhz4e440035&s=6
)
This program includes wildpacket drivers for your card enabling it to go into 'monitor mode'. Note: When the program is running you will not be able to get on the internet, but this is restored when you close it..
Once installed, open the program and click on 'new capture'

Next hit '802.11' and select where you want to capture from (channel, BSSID=MAC-adress, ESSID= network name, or scan channels) and click OK.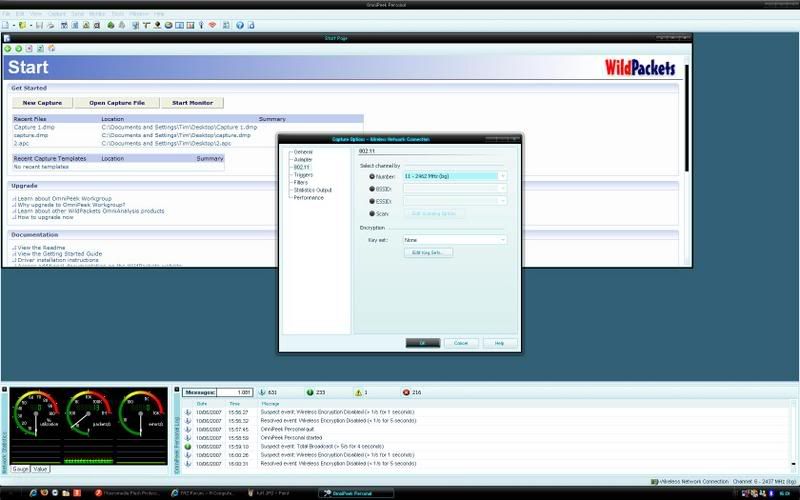 Now hit 'Capture' and it should start capturing packets..

When you think you have enough packets click 'stop capture'.
Goto File>Save all packets and save it as a .dmp file. Close Omnipeek.

3. WINAIRCRACK
—————-
Okay so now we should have a .dmp file with the packets.
– Open WinAircrack
– Click 'select capture file' and load the .dmp file you captured before.


– On the general tab select the encryption type (i only know how it works with wep..)
– On the WEP tab you can choose the key size (not necessairy)
– On the advanced tab you can enable the use of dual processor (not necessairy)
– Click 'Aircrack the key'
– A command box will show up and ask you for the target network.


Choose the right one and voila it will begin cracking.
Code: Select all

EDIT:
To filter a network out:
-click start monitor in omni
-rightclick on the network u want
-click make filter
-give the filter a name
-do what i explained in the tutotial, but before u click capture
first go to 'filters' in the list
-put a cross next to the filter u made
This will make you capture only the data from a specific network (no more huge lists of networks with only one iv.
The end!